Unoccupied property insurance for your unoccupied house or commercial building.
Specialists in unoccupied property insurance
Bickers Insurance Services are experts in providing unoccupied property insurance, whether you need cover for an unoccupied property on the market for sale, between tenants, or if you need empty home insurance for your unoccupied property during renovation or construction works.
We have a range of policies available to suit your unoccupied property, and our experienced team will be happy to discuss your requirements and provide you with a fast and competitive quotation.
For more information you can download our information brochure for unoccupied property here.

Find out more about our commercial unoccupied property insurance here.
Our unoccupied property insurance is designed to suit any unoccupied property, for the property owners themselves, executors, trustees and administrators of estates
Whether you are an executor handling probate for a deceased person, need cover for an unoccupied property on the market for sale, between tenants, or if you need empty home insurance for your unoccupied property during renovation or construction works we can help.
We have a range of policies available to suit your situation, just give us a call to discuss. Sometimes there are added challenges such as the unoccupied property being worked upon, it may have been previously underpinned, previously flooded, or has an absent freeholder. Whatever the challenge, we can provide a solution for you.  
If you have a family member who is moving into a care home you can find out more about our specialist unoccupied property insurance for care home residents here.

Advice for unoccupied property owners
Beware of policy restrictions 
Most property insurance policies will automatically restrict cover to exclude Theft, Malicious Damage, Escape of water and burst pipes when a property has been empty for longer than a few weeks. Some insurance policies will restrict cover to Fire, Lightening, Earthquake and Explosion only


Tell your insurer the property is unoccupied
Normally, a property insurance policy will have an obligation to notify your insurance company if your property becomes unoccupied. They may choose to restrict cover, or to cancel your policy completely, but failure to notify them may render your policy void and therefore useless in the event of a claim.


Protect your unoccupied property
The physical security of your empty home or premises is an important area to consider. You should check that all existing security is in good working order, and that you are able to secure all potential entry points to the premises. Some insurance policies for empty property will have set requirements for security which may include window locks and a minimum standard of door lock. Do check your policy so that you know the conditions.


Remove valuables from your empty home
Valuables, electronic items, jewellery, works of art, collectables, ornaments, items of precious metals or plate - there's more, use your instincts. Basically, anything thieves will want to get their hands on should be removed from the property. Remember, this also applies to your outbuildings.
Visit your vacant property regularly 
Where an insurance company has agreed cover for an unoccupied building, they will normally insist that the property is inspected regularly, so that any problems which may develop at the property are detected early and preventative action taken to avoid damage. It is important that you record these inspections and any maintenance work that is carried out.


Switch off unused mains services 
You should ensure that any mains services not being used to heat or secure the property are switched off whenever you are not on the premises. This will reduce the risk of faults in your empty property which could go undetected until severe damage has been done.


Water
One of the most common causes of damage to empty properties is escaping water. Because a water leak can go undetected for so long in an empty building, the damage caused can easily be more devastating and expensive to repair than fire damage. The most effective protection is to drain down the water system completely and switch off the connection to the mains so there is no water on the premises.Failing this, ensure that you heat the property adequately to prevent freezing in colder weather. Heating should be set to run 24 hours (not timed). Your insurance policy will also likely have a minimum temperature you must maintain. Furthermore, if you have any water in the roof space, open the loft hatch by 12 inches (30cm) during the coldest months to reduce your risk.


Make your empty property look occupied 
If a property is obviously empty, it will soon attract the attention of the very people you want to avoid. Therefore, ensure that you keep the grounds well maintained by cutting the lawn, controlling plants and weeds, and ensuring the premises looks tidy from the outside. Speak to the immediate neighbours, get them to park their cars in the driveway, and report to you with any maintenance issues or disturbances.
​
Hit the quotation button on this page. 
​Our unoccupied property insurance policy is designed with you in mind. Don't leave things to chance, ensure that you have arranged as much protection as you can.
Unoccupied property insurance advice factsheet
Click the button below now to download our fact sheet giving advice on unoccupied property insurance, what restrictions to look out for on your home insurance policy and how to achieve full insurance cover for your property whilst it is empty.

What you need to know to help protect the family's assets
When a householder leaves their property empty, either because they have made the decision to go into residential care, or in the event that the householder has passed away, their former home is at risk of being  uninsured for serious damage which could occur.
Most home insurance policies will accommodate holidays or other absences of up to a few weeks at a time without affecting policy cover. However, for any prolonged absence, whether planned or not, existing home insurance policies may be severely restricted in cover or even voided completely.
How could the existing policy be affected?
After a specified time (most commonly either 30 or 60 days), the standard policy exclusions applying to a property when it becomes unoccupied will automatically come into force. These do vary, but the typical exclusions are as follows:
• Theft - EXCLUDED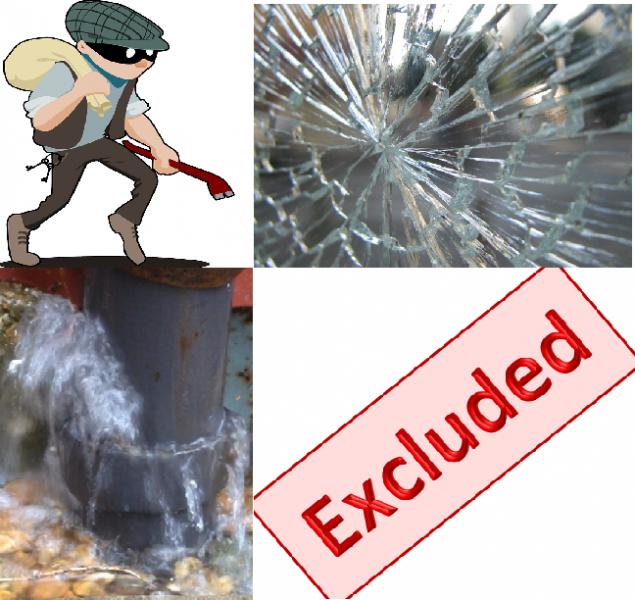 ​
• Malicious damage - EXCLUDED
• Escape of water from fixed installations - EXCLUDED
• Burst pipes - EXCLUDED
• Accidental damage - EXCLUDED
If the house is going to be unoccupied for a longer period or indefinitely, the insurer is likely to apply further restrictions (taking cover down to Fire, Lightning, Earthquake and Explosion cover only) or cancel cover completely. It is therefore vital to speak with the insurer to find out what exclusions are to be applied and when.
What if the insurer aren't made aware?
If the proposer or family fail to notify the insurer of a change in residency status of the property, the policy will most likely be voided with effect from the date of the change. In the event of a claim, the only cheque likely to arrive from the insurer is a refund of premium to reflect retrospective policy cancellation.

Beware of 'Standard Terms'
If you tell an insurer that a property is empty and they confirm that they are happy to continue cover on 'Standard terms', you might be forgiven for thinking that all is well. Unfortunately, this may not be the case. Under the standard terms of an insurance policy, the exclusions mentioned above will automatically be applied when a property is vacant for over a specified period or permanently, so if standard terms are confirmed, what you have achieved is likely to be restricted cover, leaving the property vulnerable to potentially huge uninsured losses.
An insurance policy is a legal contract. Unless the policy is extended by endorsement to provide additional cover, there is no additional cover. Therefore if you manage to negotiate an extension to the policy it must be confirmed in writing.