Bickers Insurance Services is a company that cares about the environment and believe that if we all take small measures to help the bigger picture, a huge impact can be achieved on a global scale. We have now taken an innovative approach to achieving a green insurance office.
As well as our practice of wasting as little of our resources as possible by printing only when it is essential, sending documents and communications electronically, by cycling to work when practical instead of using the car (yes – that applies up to director level), we have now created a way of improving energy efficiency, productivity and improving staff health and well being at the same time.
As our lovely summer draws to a close and the mornings start to get a little chilly, the temptation when arriving at work is to immediately crank up the heating. However, this is the time of day when the office starts at it's coldest and the energy cost of increasing the temperature by a few degrees is significant.
Bring on the Bickers Insurance table tennis challenge.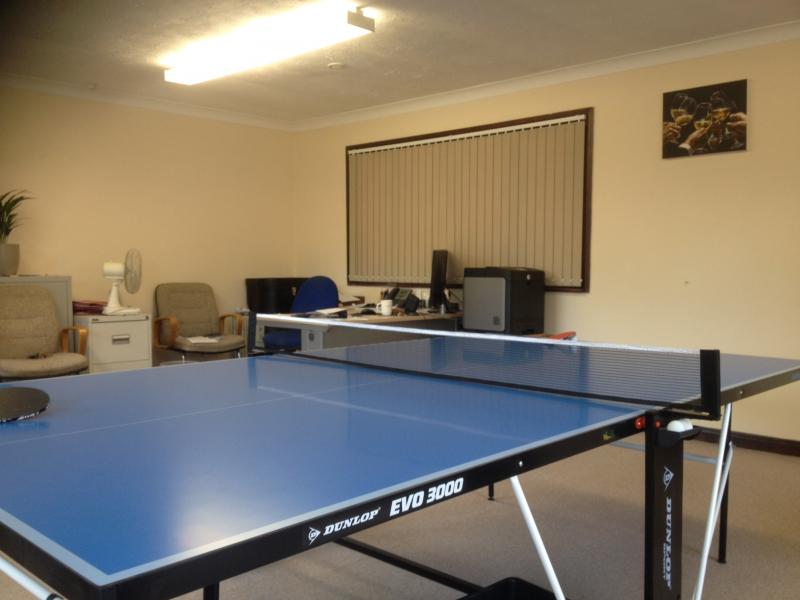 By arriving a few minutes earlier, we have pledged to start each day with a few games of table tennis between the staff. The competitive nature of our team leads to some pretty frantic games, heating the office by several degrees in the process! Meanwhile, by reducing the heating required to achieve a comfortable working temerature, we save energy, resources and money. Furthermore our staff are keen to arrive at work early to get stuck into a game and start the day engergised and enthusiastic, as well as improving their fitness and having a positive impact on time lost to illness.
We are really feeling the benefits from the physical aspect of what we are doing, as well as the knowledge that we are helping to reduce our impact on the environment in the process.
Now isn't that a great idea?